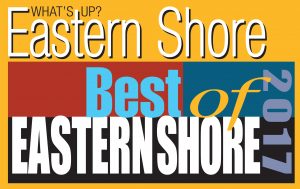 314 DESIGN STUDIO WINS WHAT'S UP? MAGAZINE'S BEST OF EASTERN SHORE 2017 READER'S POLL FOR 'BEST KITCHEN DESIGNER AND KITCHEN AND BATH REMODELING'
June 5, 2017- 314 Design Studios, a boutique kitchen and bath design studio, has won What's Up? Magazines Best of the Eastern Shore 2017 readers poll for 'Best Kitchen Designer and Kitchen and Bath Remodeling'. The kitchen and bath design studio are well known for their exceptional designs, extraordinary customer service and unparalleled craftsmanship. They have also recently won the 'Best of Houzz Design and Customer Service Award'. Winning these awards further confirms 314 Design Studio is a company with the highest standards of craftsmanship and industrial excellence.
The company designs and remodels kitchens, bathrooms, closets, laundry rooms and other spaces throughout the Eastern Shore, Annapolis, Kent Island and other areas. They have two kitchen and bath showrooms located in Stevensville and Annapolis, MD. There you can view a selection of fine cabinetry, countertops, knobs and more.
Every year What's Up magazine asks their readers to cast their votes for the best businesses, law firms, spa services and medical professions by submitting an online ballot on whatsupmag.com. The winners will be honored at the annual Best Of Party held on June 15.
About 314 Design Studio
Our clients receive the finest personalized service from an experienced design team who will help turn your vision into reality. Whether you want to create a new space or simply beautify an existing one, our designers will assist in transforming your kitchen, bath, home office, library or any room in your home into the space you have envisioned.
Our studio is filled with samples of fine cabinetry, tile, countertops, fixtures and accessories. We are proud to support the work of local artisans and craftsmen and are the exclusive representative of quality cabinet lines.