Designing a new bathroom or updating an old one is an exciting but detail-oriented process.  Below are some of the trends we are seeing in bathroom designs this year.  All photos are from 314 Design Studio's recent projects!
This contemporary bathroom features a glass enclosed shower with a glamorous glass tile feature shower wall, sleek floating double vanities and modern linear vanity lights.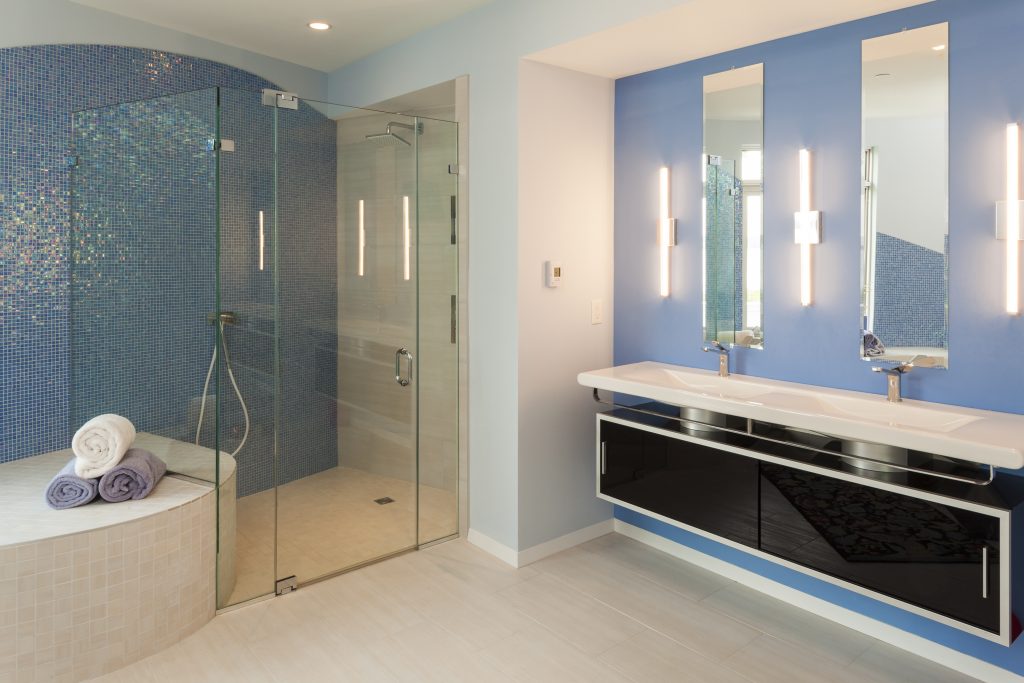 Dramatic powder rooms are all the rage this year.  They frequently feature a vessel sink, show stopping light fixtures, unexpected wallpaper or a bold paint color. Unique faucets and framed mirrors finish the look for a bold and memorable statement.
The process of selecting flooring, title, cabinetry, vanities, mirrors, showers,  baths, toilets,  faucets and finishes can be overwhelming. But it doesn't have to be. Working with our bathroom designers, you can even have fun and enjoy the process while eliminating a lot of the worry.
This bathroom features a number of trends we are seeing this year. Mixing matte and high shine finishes give a monotone bathroom design a rich, luxe look by playing with texture. This recessed and tiled niche is a much more sophisticated look than an aftermarket shower caddy would. Display all your high quality shampoo and body washes with pride.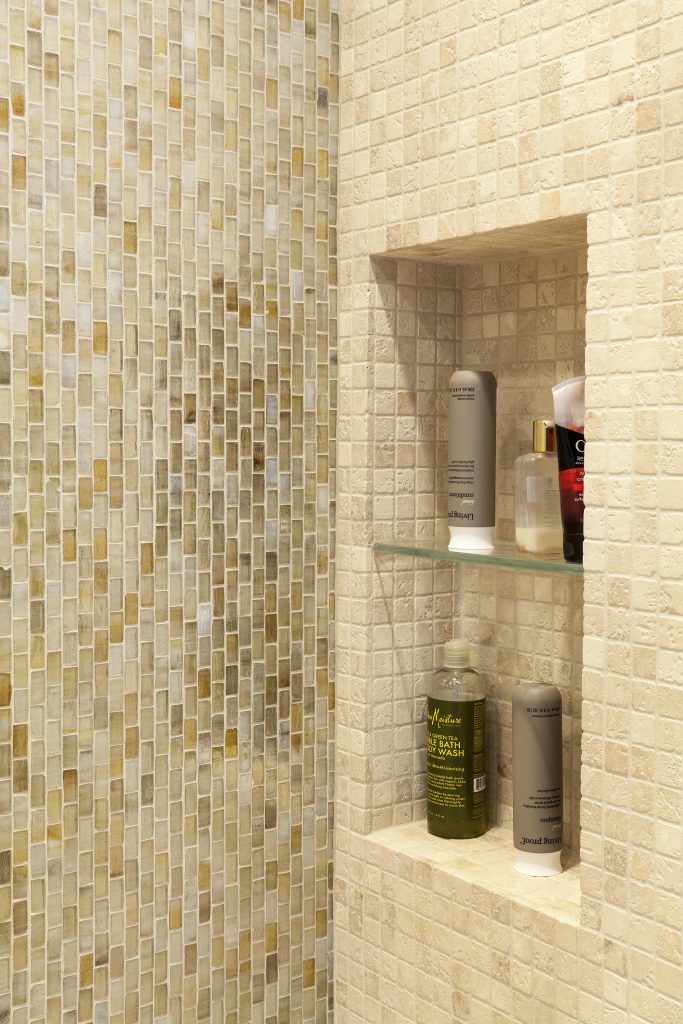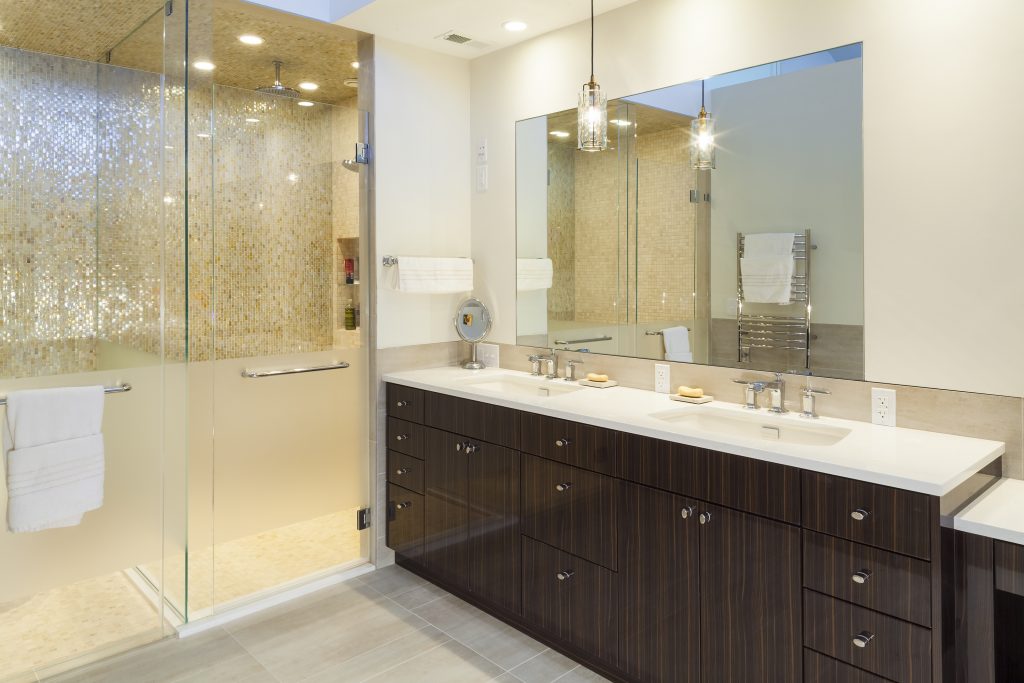 This crystal vanity pendant light bounces light off the glass tiled shower wall like  bubbles in a champagne glass! Note in the mirrors' reflection an indulgent towel heating rack!  Wood look porcelain tile flooring, includes radiant heat below to keep toes toasty on cold winter mornings.
With a bathroom designer by your side to guide you, you don't have to worry about forgetting important items, measuring properly, ordering the just right materials and quantities, construction considerations, and project management.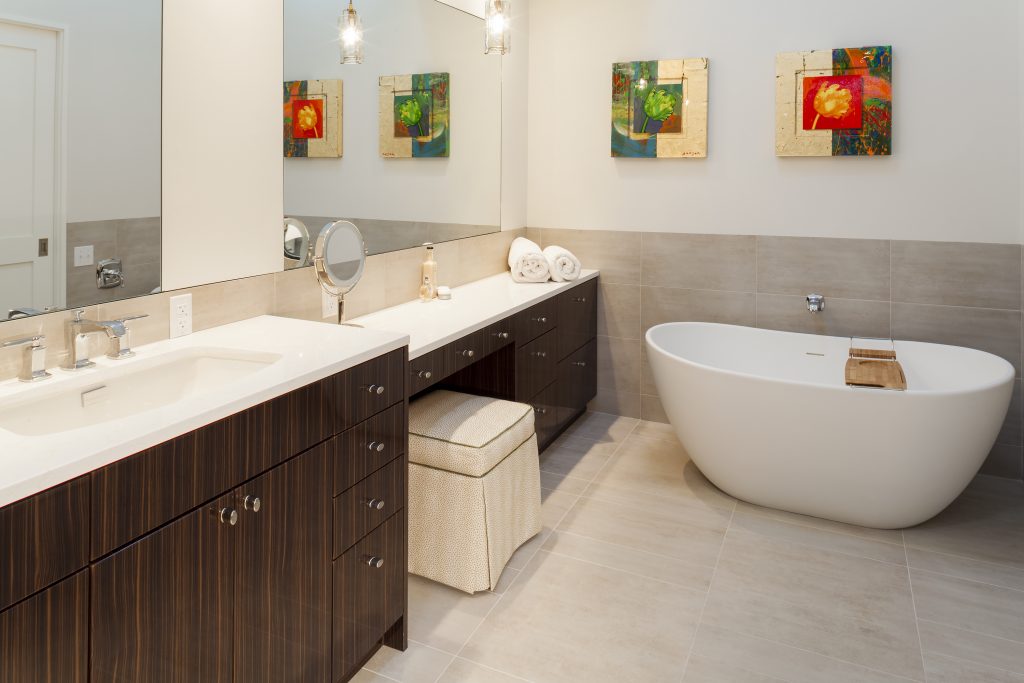 Freestanding soaking tubs continue to trend this year. All you have to do is to choose what style. Do you like the traditional look of a retro clawfoot tub, or do you prefer an Asian-inspired contemporary look like this one above?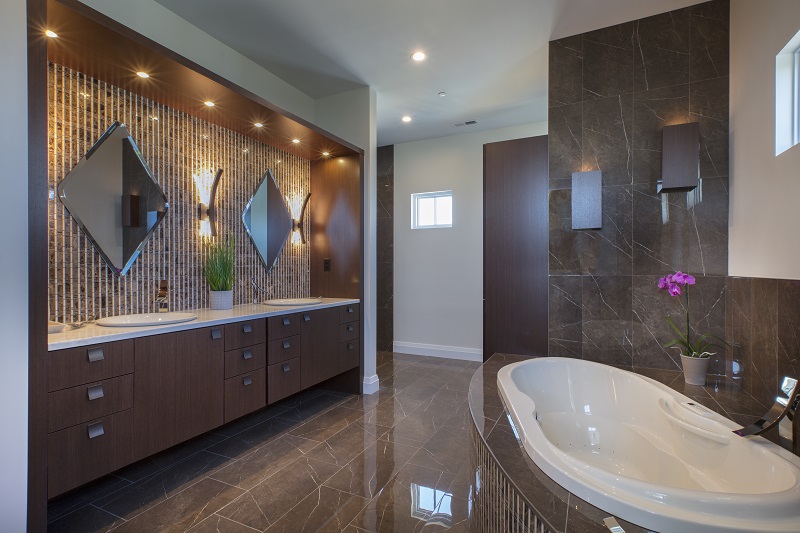 This contemporary bathroom has a soothing earth-toned palate, featuring dramatic marble flooring and walls, glass tile vanity backsplash, double floating vanities, unique his and her triangle mirrors, recessed vanity lighting, and lantern-like wall sconces. A jetted tub with an ultramodern and vogue linear curved faucet completes the alluring design.
We are thrilled to assist you in making sure your bathroom design will meet your needs, budget and style preferences, while creating a pleasing overall design that you will love for years to come. Make an appointment today!