Outdoor Living
Over the past year, families have spent more time at home than ever and are looking for ways to create more spaces around their homes to enjoy, relax, and entertain. With summer approaching, it is a great time to start thinking about your outdoor living space. One of the best ways to enjoy your backyard is with an outdoor kitchen. A basic grill on pavers is a thing of the past. There are now so many options that allow your outdoor living space to become a true extension of your home. Outdoor kitchens can be designed to create barbeque kitchens and include features like pizza ovens and bartender stations. When designing an outdoor kitchen area, choices range from in-stock options to fully customizable designs. Whether you are looking for a traditional, functional, contemporary, or luxury design, 314 Design Studio, LLC will work with you to create the outdoor space of your dreams.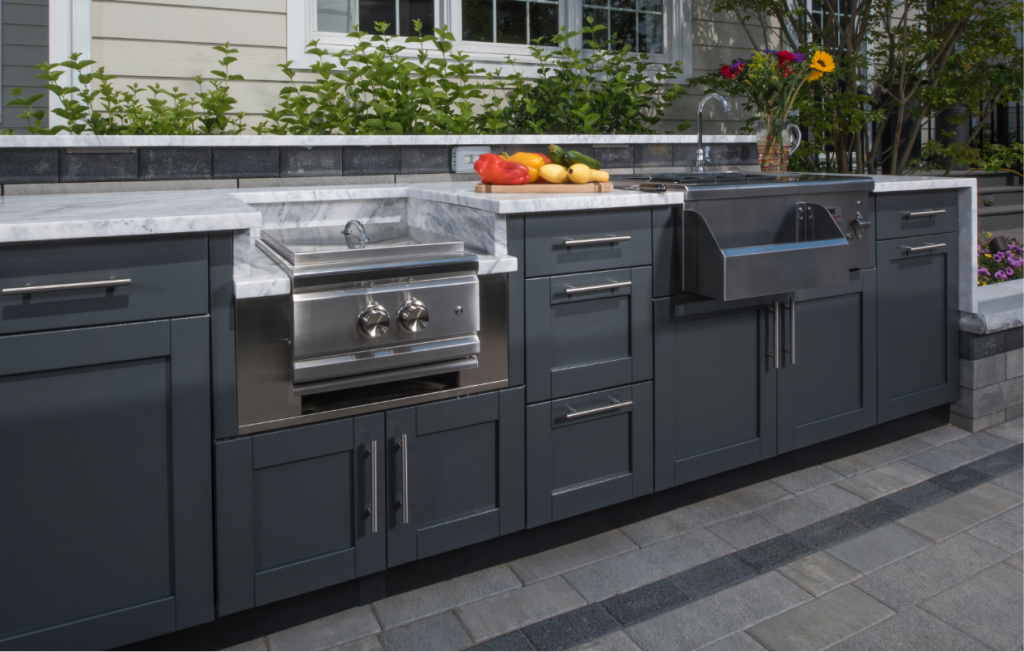 The Importance of a Budget
When designing an outdoor kitchen the first decision to make is the range of your budget. This helps the designer present you with choices that are right for you. In stock options are generally more affordable and arrive faster for installation. Customizable options allow you to put together the look you desire, but since they are made to order, will take longer to arrive. It is helpful to have a list of "needs" for your space and a list of "wants" so that your design team can create the best design for you.
Outdoor Kitchen Location
The location of the outdoor kitchen can be very important to consider when making decisions about what to include in the kitchen area and materials that should be used. If your kitchen will be by a pool, you want to take both the water and pool chemicals into consideration when making choices on your finishes. Depending on your kitchen's location, hardscapes for walkways and patios are definitely something to ponder. Fire pits and seating areas may be wanted to add to the entertainment options of the outdoor kitchen and extend the number of months in a year that your space will be utilized and enjoyed.
Not sure where you want to put your outdoor kitchen? Or, only want to use the outdoor kitchen during the warmer months? Standalone kitchens are becoming more popular. Mobile bases on which outdoor kitchens are built are a great way to store your kitchen away during the winter months, or only bring it out when entertaining. 
Creating the Perfect Design
Choosing the Right Cabinet Finish
A huge part of the design of any outdoor kitchen is choosing the right cabinetry for your space. Stainless steel cabinets with powder coating are becoming increasingly popular for both practical and aesthetic purposes in outdoor kitchens. The powder coating helps prevent rust in outdoor climates and also is easy to keep clean. The powder coating on stainless steel cabinets is also safe for the environment because it does not contain hazardous chemicals. This also makes it safe to use. Sister companies  Brown Jordan and Danver offer a wide variety of powder coating colors and textures that include neutral and vibrant options. Powder coating can even be applied in wood finishes. Compared to liquid paint, powder coating won't run or drip and can be applied in thick layers. Powder coating is also more durable to withstand rust, corrosion, sun exposure, and weather.
Brown Jordan powder-coated wood finish
Creating your outdoor kitchen on a budget? Wolf Home Products offers a Wolf Endurance line with in-stock cabinets made with aluminum to withstand the elements.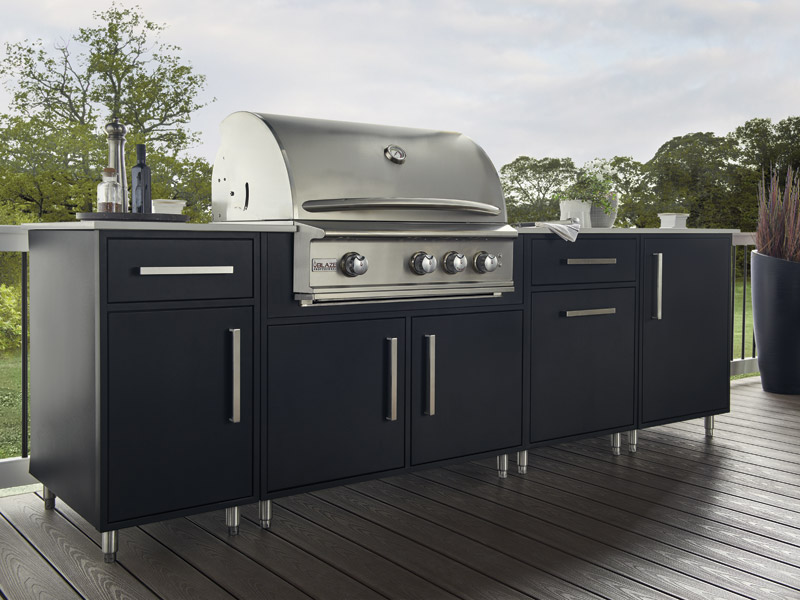 Wolf Endurance Aluminum Cabinets
Cabinet Door Styles
Cabinet door designs range from flat front to designs that allow for wood, glass, and metal inserts. Homeowners can choose different styles for their finish from vertical beadboard to horizontal blind louvers.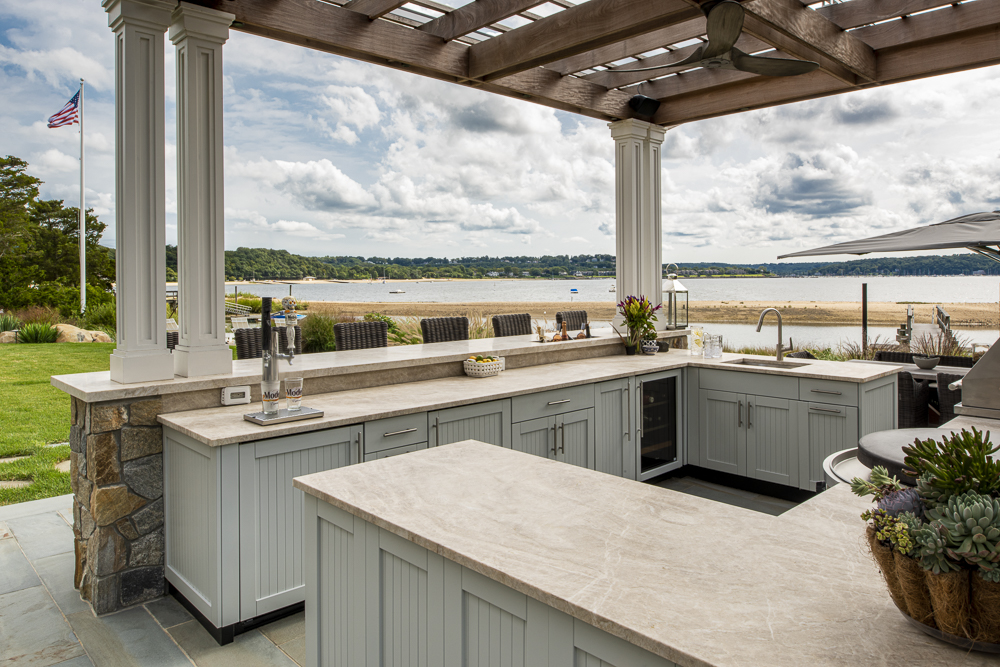 Brown Jordan Beadboard Cabinet Style
Other Customizable Options for Your Outdoor Kitchen
Along with cabinet finishes and door styles, there are other decisions to be made when designing your outdoor kitchen. Countertops, appliances, cabinet hardware, sinks, faucets, and added features are all important parts of the completed outdoor kitchen.
In the kitchen below, completed by 314 Design Studio, owners chose to use Brown Jordan outdoor cabinetry with the Hampton door style, and the titanium powder coat finish. Hardware from Top Knobs was selected for a crisp, clean look. Granite countertops add a simple and luxurious feel. For appliances, the owners chose a KitchenAid built-in grill, a Danze bar faucet with an oil rub bronze finish, and a Blanoc Rondo bar sink.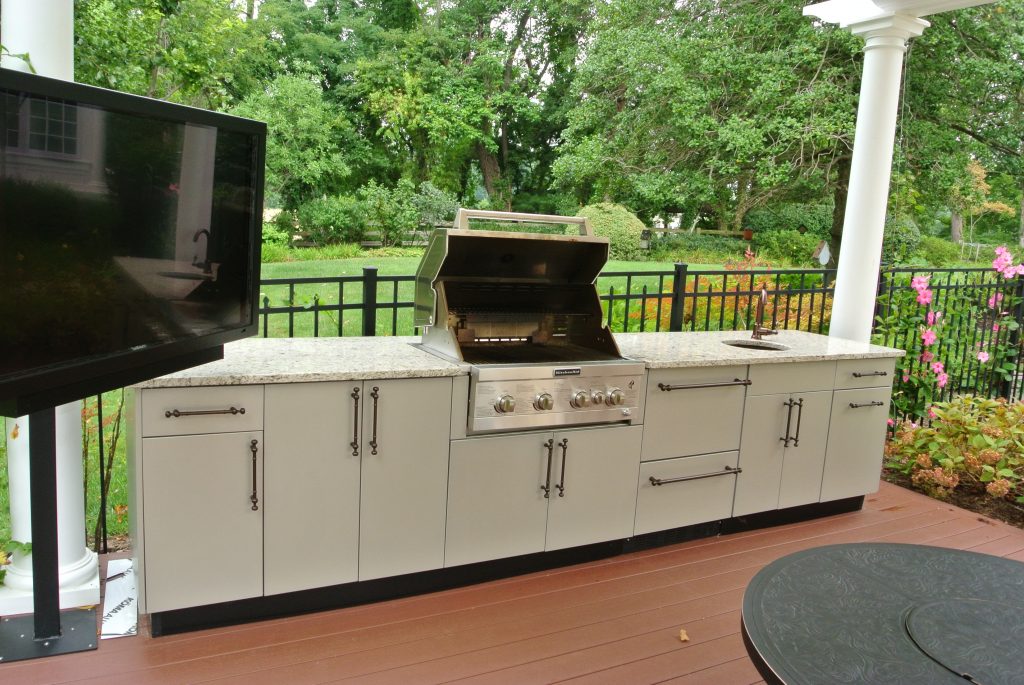 To complete the area, the homeowners chose a composite decking patio to create an extra seating area, complete with a television, pergola, and fan.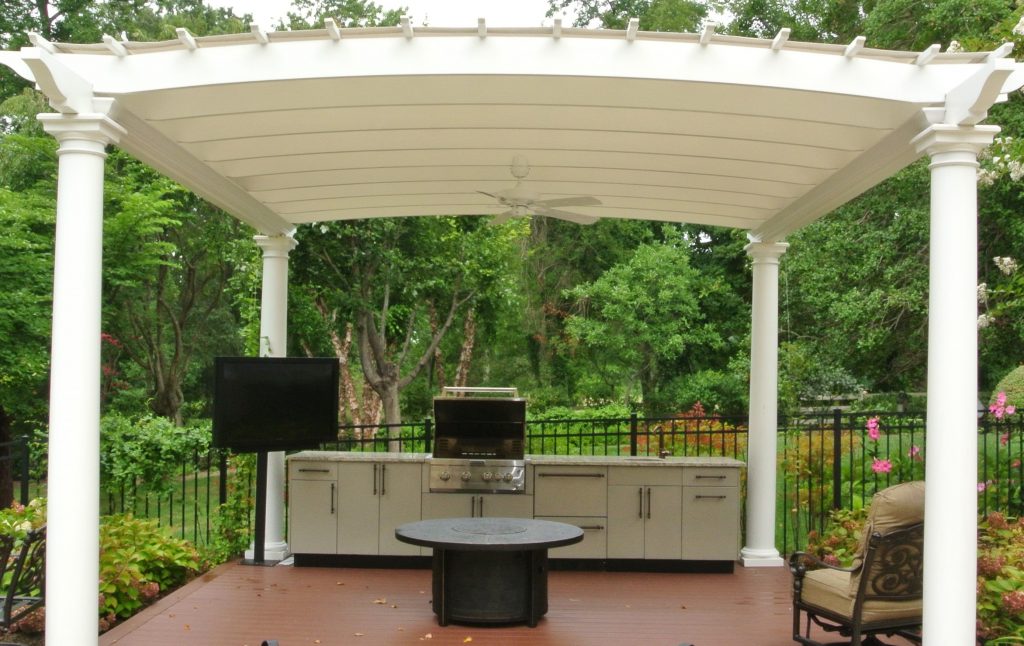 Whatever your vision and reason for wanting an outdoor kitchen space, 314 Design Studio, LLC can work with you through the entire process to create the outdoor kitchen of your dreams.