Get details and costs on top counter materials to help you narrow down the choices for your kitchen
Choosing  a kitchen counter is no easy task with so many available choices. Since this surface area takes up a large amount of the kitchen, it ends up having an impact on many of the other choices you have to make when remodeling or designing a kitchen.
Below are some of the most popular counter top materials, and the pros and cons of each.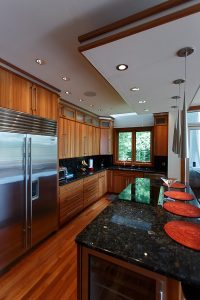 Soapstone Kitchen Counters
This material is resistant to stains, chemicals and bacteria, and is a durable and natural choice for a kitchen. Although it is considered to be on the expensive side at $80 to $100 per square foot, it is considered to be a lifetime investment.
Granite Kitchen Counters
Granite has always been one of the most popular choices for kitchen counters. With plenty of character, including unique grains, colors and customizable finishes, it is also considered to be extremely durable. It  can cost as low as $50 per square foot but prices can go up quickly with more exotic slabs and difficult installations.
Copper Kitchen Counters
Although it is not a common choice it is surprisingly easy to clean and maintain. This is considered  a "living" surface, as it reacts to different substances, creating a blend of matte reds, browns and greens. It costs at a minimum $100-per-square-foot.
Engineered Quartz Kitchen Counters

Engineered quartz comes in just about every shade possible, so it is perfect for anyone who wants a unique or custom look. This product combines ground quartz, resin and pigments for a very durable result. It is pricey at $95 to $105 per square foot.
Tile Kitchen Counters
This is one of the more affordable choices starting at $30 per square foot. Available in stone or ceramic, it is extremely durable and is one of the few choices that is completely DIY.  Maintenance can be difficult, but choosing a darker grout can ease this burden.
Zinc Kitchen Counters
Although not a popular choice in modern times, this metal has a warmth that has made it stick around for many years. The tone of this metal darkens with time, adding patina. Its antimicrobial properties make it a smart choice for a cooking space. This material starts at $100 per square foot.
Recycled Paper-Based Counters
This ecofriendly choice has surprising durability considering it is made entirely of paper.  It is typically mixed with resins and pigments and looks very similar to soapstone, and averages between $40-80 per square foot.
Plastic Laminate Kitchen Counters
This option can work with most designs because it has so many customizable edges and finishes. One of the cheaper options it ranges from $8-20 per square foot. It's one downfall is that it is not very durable and may need to be touched up or replaced more often then some of the other choices.
Recycled Glass and Cement Kitchen Counters
One of the more pricey options starts at $100 per square foot, but is growing in popularity because of the unique combination of glass and cement.  This option is ecofriendly, durable and customizable.
Stainless Steel Kitchen Counters
This choice is nonstaining, heat resistant and easy to clean, and is a top choice for chefs. Starting at $80 to $90 per square foot installed means it's more affordable than most stone counters, too.
Solid-Surface Kitchen Counters
Although not very popular, this miracle material has the ability to imitate just about any look without the same maintenance or price tag. Prices range from $50 to $100 per square foot, depending on the manufacturer.
Wood Kitchen Counters
A personal favorite, this option offers a unique, warm and long lasting countertop. The cost varies depending on the type of wood you choose, but one of the most popular choices, a butcher block, tend to range from $30 to $85 per square foot.
Marble Kitchen Counters
Marble counters are always in style offering a classic look however it tends to scratch and stain easily. Marble is known more for the patina it develops, than for its durability. The cost typically ranges from $70 to $100 per square foot.
Concrete Kitchen Counters
Pigments, stains and dyes can create concrete counters with color and visual texture, making them fairly easy to customize . With the right sealer, a concrete counter can be well worth its cost — averaging between $100 to $150.
Source Houzz.com