The phrase "Aging In Place" means living in your home safely, independently and comfortably, regardless of your age or ability level.To age in place it is necessary to modify your house as you mature to increase access and maneuverability. By planning ahead during construction or renovation you give yourself the opportunity to  plan accordingly so that your home has the ability to grow with and remain as functional as possible. A lot of these modifications can be incorporated into a new construction plan or during renovations. These adaptions are functional for normal everyday use so incorporating them early will not reduce your current quality of life. The changes can be as major as adding a bedroom or bathroom to the main level of your home to as modest as adding grab bars in the bathroom. 78% of those aged 50-64 have said they want to live in their own residence as long as possible. Staying in your own home as you age takes planning and help, but the rewards are many. Whether you live alone or with a spouse, aging in place keeps you closer to family, maintains your independence and connects you to your community. And, it costs less in the long run. Read on to find out some ways to help you improve your quality in life as you age.
Accessibility – Ramps and stairlifts make homes easier to stay in as mobility declines. Also, add grab bars to stairs, tubs and showers.
Bathroom Upgrade – Getting in and out of a bathtub and shower combination can be dangerous as seniors' agility declines. Tub Cut is an affordable option for converting a tub to a shower. Curbless showers for wheelchair access are also an option. Both of these options are designed to help you maintain your independence.
Energy Efficiency – Many seniors rely completely on a fixed income and every dollar counts. Save money on electricity and gas, and stay comfortable, when you upgrade to energy-efficient heating and cooling systems as well as appliances. Check attic insulation and upgrade windows with energy efficient replacement windows. The energy cost savings will continue to add up, and if the upgrades/replacements are done before December 31, 2013, you'll also qualify for a substantial tax credit.
Floors – Prevent falls (the leading cause of disability in older people) by removing throw rugs, relocating furniture, securing loose wires, using non-skid spray on tile and linoleum floors and maintaining a wide area for movement in hallways and pathways in other rooms. Also, consider whether your hallways and rooms are clear enough for a wheelchair to get through easily.
Lighting – Dimly lit areas present another fall hazard. As eyesight declines, it's important to address lighting issues throughout the house, taking extra care that light fixtures have at least two bulbs in vital areas such as the entryway, bathrooms and kitchen. This way, when one bulb burns out, you still have light in that area. Make sure light switches are low enough to easily reach from a wheelchair.
Alarm System – Elderly people are often targeted by burglars and a security system can not only help thwart criminals, but provide peace of mind and often make it easier to get emergency services.
Door knobs and Cabinets – Arthritis and other conditions make it harder to open doors and cabinets. Replace door knobs and cabinet hardware with levers, which are much easier to grasp.
Risers – Getting out of bed or standing up from a sitting position gets harder as we age. The lower the furniture, the harder it is. Installing bed risers, using power seat uplift assists and rising recliners make it easier to get up and down.
Door Entry Intercoms – Answering the door can be difficult for those who can't get up from a sitting position easily, but an intercom allows you to communicate with the person outside the door, and even press a button to let them in, all from where you are sitting.
Personal Response System – A lifesaver for seniors who live alone, a personal emergency response system is a lightweight, battery-powered "help" button that is carried by the user. It transmits to a console connected to the user's telephone. When emergency help is needed, such as medical, fire, or police, the user can press the transmitter's "help" button, sending a radio signal to the console which then automatically dials one or more emergency telephone numbers.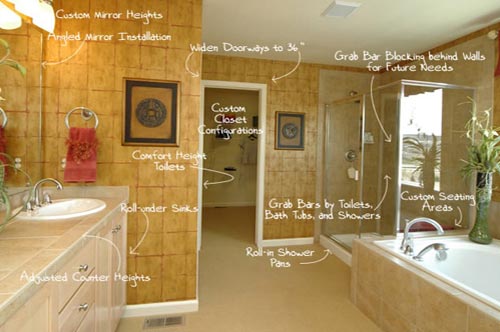 Aging in place is a choice. Making these choices gives you control over your independence, quality of life and dignity.Currently, the majority of seniors aged 65 and older are living either with a spouse or alone in their own home. Many of these elderly people already struggle with fulfilling everyday tasks. As Certified Aging in Place Specialists (CAPS), Lundberg Builders has the answers to your questions. We have been taught the strategies and techniques for designing and building aesthetically enriching, barrier-free environments. For more information, please call us at (410) 643-3334.