The time has arrived! It's what we've been waiting for all winter; the chance to be outside and dwell. For many this means enjoying an outdoor kitchen/living space created specifically for their needs— to suit a specific type of outdoor personality. If you are in the planning stages of creating an outdoor kitchen or looking to spice up your current configuration, may we suggest taking the following quiz? Which of these outdoor personas sounds most like you?
The Home Chef
Your outdoor kitchen is every bit as inviting and functional as your indoor kitchen. You won't cut corners when it comes to quality appliances just because you can't use them every day of the year. Your collection of event-specific aprons is second to none. You receive daily deliveries from Amazon pantry.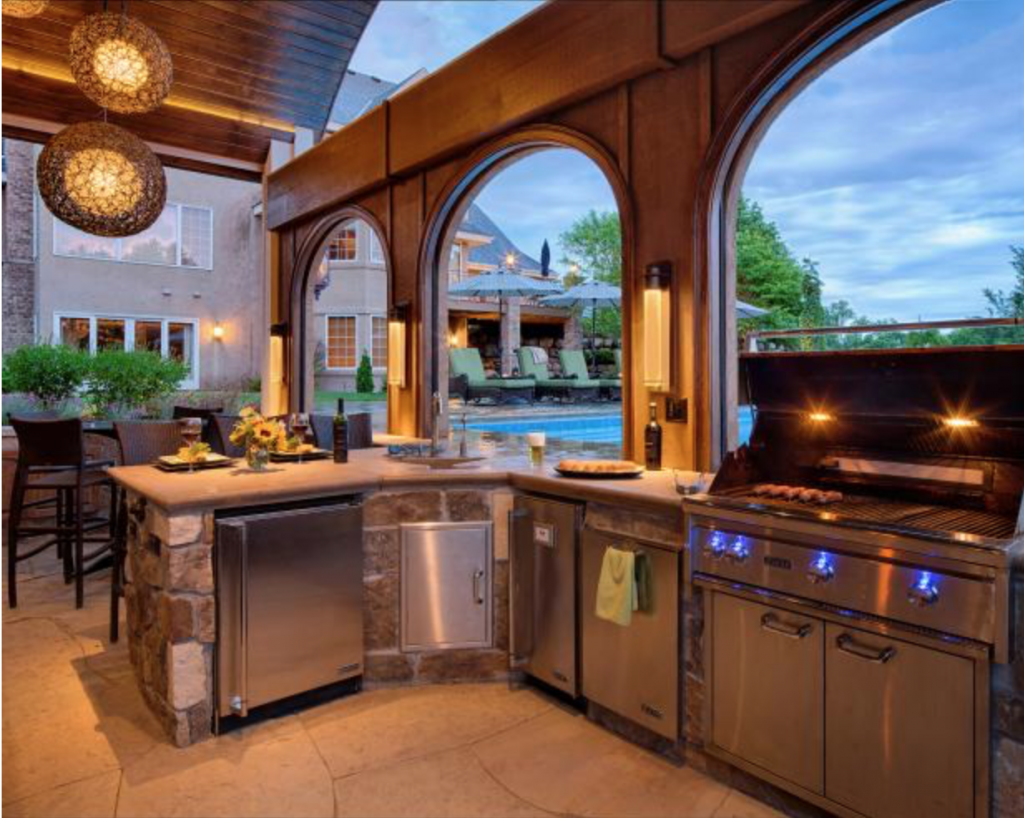 Must-Haves: Durable, reliable appliances. A design scheme that allows you to cook and entertain at the same time. (Photo courtesy of Steve Silverman)
The BBQ'r
You're a regular at the annual spring home show, a curator of marinade recipes, you appreciate the efficiency of a silicone basting brush and love making the neighbors jealous with the smoky delights of your grill. You're never happier than when you have a crowd of guests around you, drooling as they await their first bite of juicy, melt-in-your-mouth pork butt, ribs, chicken or steak or those outdoor BBQ favorites – brats, hamburgers and dogs. For you—it's all about the grill.
Must-Haves: The proper grill, easy access to grilling space, and room to move. (Photo courtesy of pitboss-grills.com)
The Creative Cocktailer  
You let your guests know that dinner's at 7, but the cocktails start pouring at 6. You scour Pinterest for creative and refreshing concoctions and have a hilarious collection of cocktail napkins that express your festive life philosophy. You love to color coordinate your drink stirrers with your dinner theme, you have a monogrammed ice bucket and you possess the ability to deliver a smashing toast at a moment's notice.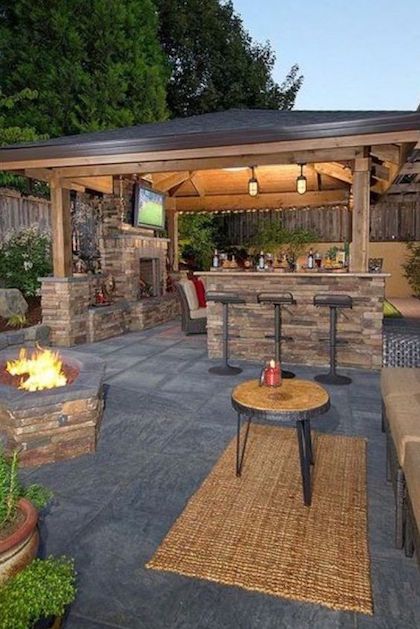 Must-Haves: Cozy seating for clever conversation, counter space for a garnish keeping and dicing, wine fridge, under the counter ice bin, ample outdoor barware storage. (Photo courtesy of Pinterest)
The Fresh Fish Phenom
You're hooked on catching it and cooking it up yourself. However, cleaning it makes your better half wince. Your array of crab pots, seafood mallets and lobster hammers is unrivaled on your cul-de-sac.
Must-Haves: Extra sink, dedicated counterspace, extended dining table. (Photo courtesy of JWT Associates)
Come in and discuss your "Outdoor Kitchen Persona" with us and we'll help create the perfect space for you! Call 314 Design Studiostoday to schedule a no-cost consultation (410) 643-4040, or feel free to drop-in at your convenience; we are located at 314 Main Street in Stevensville, MD 21666 and open from 8 am – 4 pm, Monday through Friday.