It's no secret that the kitchens that evoke the most convivial environments have at least one thing in common, a stylish island that offers both panache and purpose.
Today's islands, indeed, offer all that and more. However, the earliest versions of kitchen islands were actually just work stations in the form of long narrow tables that were all about purpose and utility. With the appliances and plumbing fixtures of the day needing to be tethered to walls, the only place to situate them was in the middle of the room. They did the job of providing extra prep space, but that was long before our open floor plan living concepts created the need for work stations to have a makeover. (Photo above is from 314 Design Studio's gallery of home projects.)
While some more pleasing attempts at "island living" were introduced in the '60s and '70s, today's kitchen islands have their roots in those larger rectangular structures that took center stage in America's kitchens in the '80s and '90s. And back then, in the land of the big, bigger and biggest, one might argue the primary purpose of an island was to help fill or connect space in the late 20thcentury's largest kitchens.
It's a beautiful thing now that we have come full circle and have figured out how to better use this wonderful device for productivity and gathering in a way that's totally 21stcentury.
Customization Comes Home
Beyond being breakfast and homework central, islands have evolved in how they are laid out, what they are made of, how they are styled and constructed, and how they are situated within the kitchen space.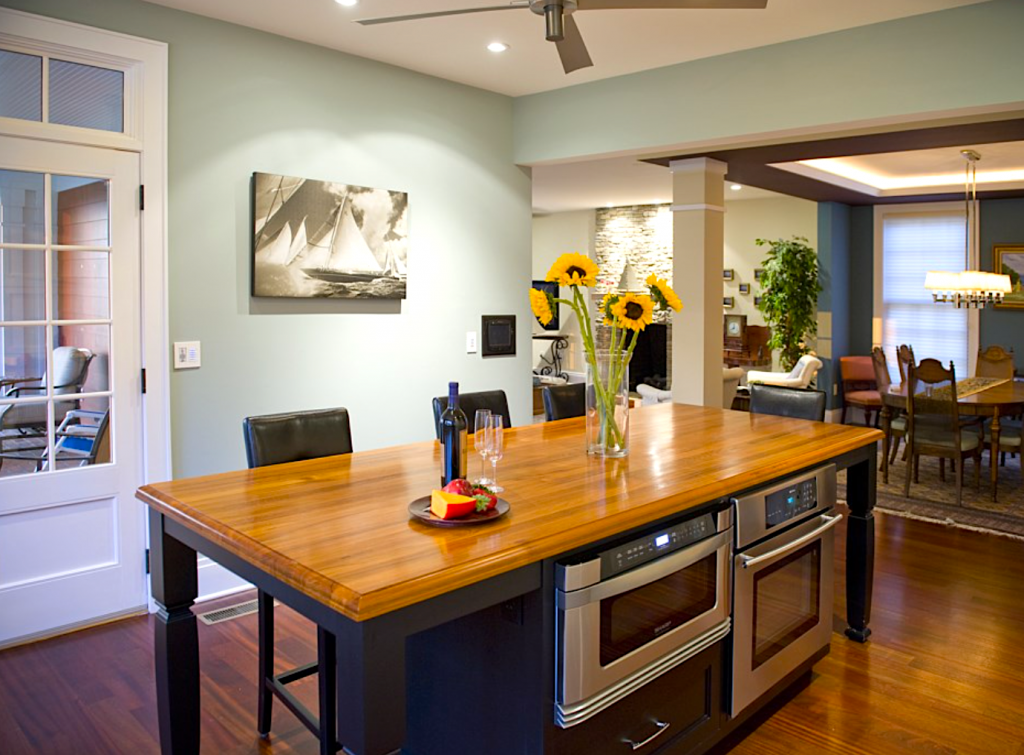 Standard rectangular islands are still extremely prized and popular for the way they can accommodate a sink, a stovetop, a seating area and how they can provide a ton of extra prep and storage space, especially for those large countertop appliances and cooking accessories. (Photo above is from 314 Design Studio's gallery of home projects.)
However, non-standard islands are making their mark on kitchen culture and making their way into spaces you wouldn't necessary think would work for an island. These three newer trends do, however, because they were well planned for and well executed. So talk to your qualified design team if you're planning a new home or just a new kitchen.
Shape Shifters
Playing with shape is the primary way islands are changing the kitchen landscape. Consider this Pentagon-shaped version. (Photo below is courtesy of Houzz Magazine.)
By adding a triangle-shaped portion of marble to a rectangle portion, you create a more interesting aspect of design to the kitchen. In addition to the extra seating this approach provides, it adds a wow-factor to the room's aesthetic that a rectangle alone just can't do.
Talk about conversation starters, the room below with its angled island and contrasting color combo, creates great flow for foot traffic and appeals to the eye as it surveys the layout of the room. (Photo below courtesy of convencionviahispania.org.)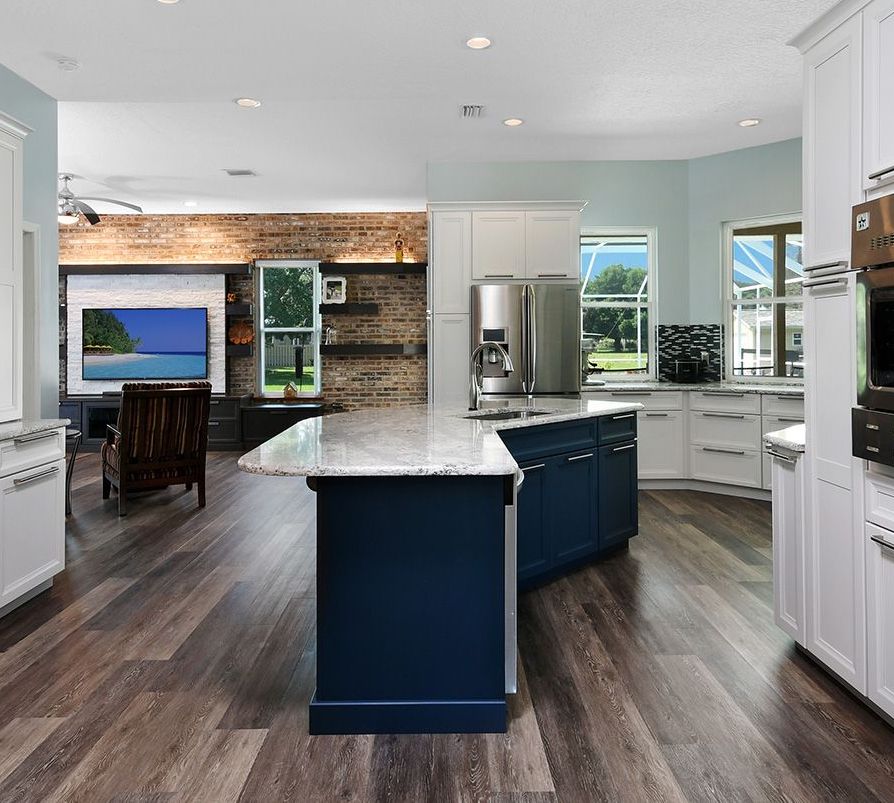 This design makes the most of the existing space without sacrificing flow or style. Indeed, both wine and appetizers are all that are needed to get a party started when you have a sensibly styled showpiece like this one.
There is also something to say for subtlety in design. We love the way the island below curves and moves so well within a limited space, making the room's layout all the better for it. (Photo below is from 314 Design Studio's gallery of home projects.)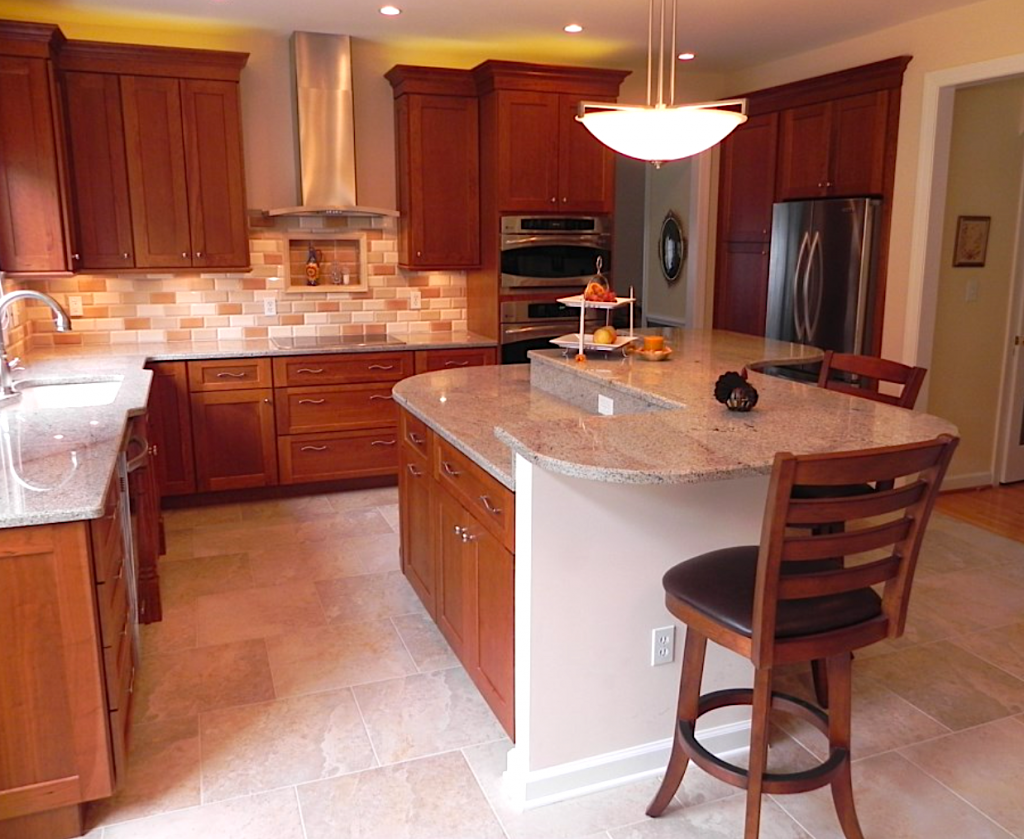 It's also a winner when it comes to extra storage, entertaining space and a dual-level approach to the countertop allowing for simultaneous prepping, conversation and noshing to be going on. Exactly what you want and need your kitchen to do!
Excited to get started? Call us today to schedule a no-cost consultation (410) 643-4040, or feel free to drop-in at your convenience; we are open 8 am – 4 pm, Monday through Friday.314 Design Studio is located at 314 Main Street, Stevensville.